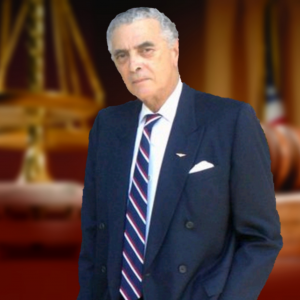 George C Hutchinson, Esq. – Attorney G. Cal Hutchinson hails from Peekskill, New York located in the Hudson River Valley where members of his family tree had lived prior to the Civil War and in fact a member of his family has served in every one of our nation's major conflicts including Attorney Hutchinson's service in the Vietnam conflict. Hutchinson met or exceeded the required standards of duty performance and personal conduct and thereafter became a pilot with Trans World Airlines for the next eighteen years but retiring early in 1987 due to a back injury he sustained in a Boeing 707 cargo flight crash during take-off out of Tel Aviv, Israel while flying international routes.
Attorney Hutchinson was able to complete law school during his time with Trans World Airlines and became a licensed attorney in 1988. With over 30 years of practical litigation skills under his belt, Hutchinson has practiced law in the areas of insurance defense including: asbestos litigation; toxic torts; products liability; aviation law; attorney malpractice; construction defect; assault and battery; employment law; defamation; class action litigation and defense, employment litigation and defense, personal injury, and both complex and simple business litigation matters.
Attorney Hutchinson became active with the Marine Corps Scholarship Foundation as a volunteer in 1995 and served as chairman of the Military Committee in years 2000, 2001 and 2002. Attorney Hutchinson was called upon to again serve as Military Committee chairman in 2009, 2010 and 2011 after which he was honored with the title Chairman Emeritus. He has also served as an Assistant Scout Master.
At the young age of 81 Attorney Hutchinson has utilized his extensive insight and experiences in the law and area of physical healthy to Co-found and co-create The Church of Fitness and Nutrition.